We are happy to bring to you the 6th edition of the BankBazaar Aspiration Index – our annual study that attempts to understand what are the key aspirations of people and how they change year on year.
For the first time since 2020, the All-India Aspiration Index has fallen. It now stands at 85.3, down two points from 2022 (87.3). Given the prevalent economic uncertainties around the world, we expected reports of financial challenges from our respondents. Hence a fall in the Index wasn't wholly unexpected.
A few themes stand out. Mental health remains a major concern. Our data suggests fatigue among India's young. The Early Jobber male, in particular, seems to be low on aspirations with the lowest scores across all goals. But women are leading this year's charge.
The biggest drivers continue to be relationship goals, and of course, health. The most important goals were also around mental health, children's education, home ownership, entrepreneurship, and living near one's family.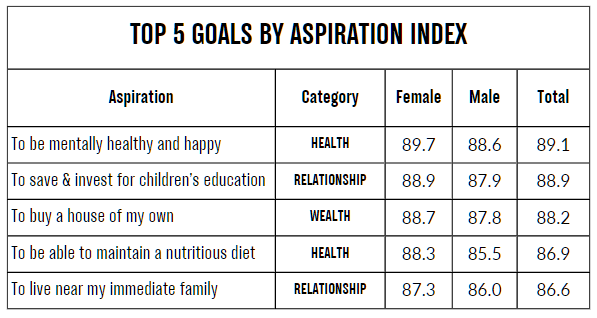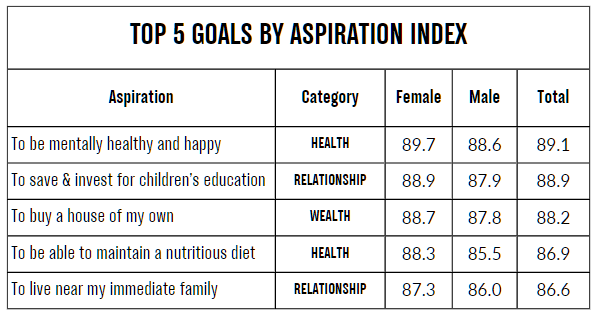 Despite thinning participation in the workforce, Indian women drive India's aspirations. They outmarched men again this year, with an Aspiration Index of 86.1 versus 84.3 for men. The top aspirations for women centered around mental health (90), children's wellbeing (89), and home ownership (89).
A resilient East (84.1) lost its top spot and moved to the bottom with a steep fall of 4.1 points over last year. The South, North, and West clustered closely together in the 85s.


The other major theme observed in this year's survey is the drop in fresh credit, which, despite going strong, has fallen by 2-3 percentage points compared to the previous year. Interest rate hikes have led to home loans becoming costlier by 1-3% or more for 74% of the respondents.
Rising inflation and interest rates have had a big impact on people's pockets. Around 74% have seen their loans become more expensive. Around 42% have seen their EMIs go up and 21% have seen both EMI and tenor increase. Of these, 76% have seen their interest rate increase by more than 1%. The hike has been more than 3% for 21%. That's an increase of ₹0-2000 for 26% people, and ₹2000-10,000 increase for 50%.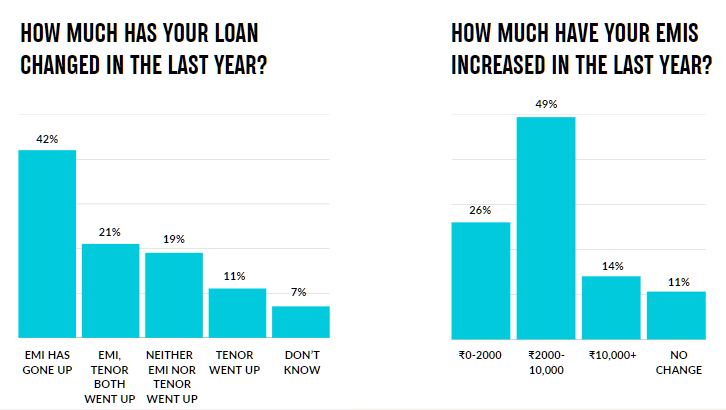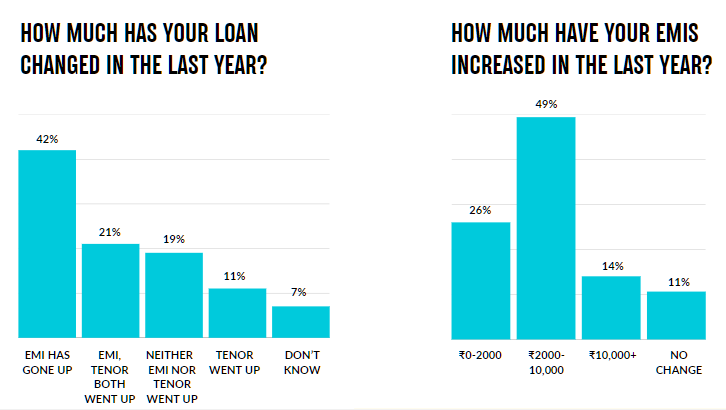 Nevertheless, despite the headwinds, optimism still persists as majority people (56%) choose to defer their aspirations over downsizing them or writing them off altogether. Women continue to drive aspirations, with women scoring higher on every metric—the importance index, the Aspiration Index, credit use, and general optimism.
Looking for something more?
Copyright reserved © 2023 A & A Dukaan Financial Services Pvt. Ltd. All rights reserved.